Religious Education
The CCD program is geared toward providing Religious Instruction to children not attending Catholic Schools.
The registration period begins July 15, 2022 until September 12, 2022. Registration is REQUIRED for all students, new and returning students. NO EXCEPTIONS. Please see below link to registration form.
The first day of Religious Education / CCD classes begins September 18, 2022 for pre-registered students only. Class sizes will be limited and registrations are taken on a first come - first serve basis.
Our CCD religious education program is made up of volunteer teachers who care about our children's spiritual growth. With books and our personal experiences, we hope to plant seeds in our children's hearts to become good Christians. Parents are, of course, the primary example and educators for our children's knowledge about our faith.
Our English program begins with class at 9:45 a.m. on Sundays in the Parish Hall. Class ends at 11:15 a.m. We encourage families to attend the 11:30 a.m. Mass immediately after class.
Our Spanish program begins with class at 11:45 a.m. in the Parish Hall. Class ends at 1:15 p.m. before the Spanish Mass at 1:30 p.m. on Sunday.
Click HERE to download CCD Handbook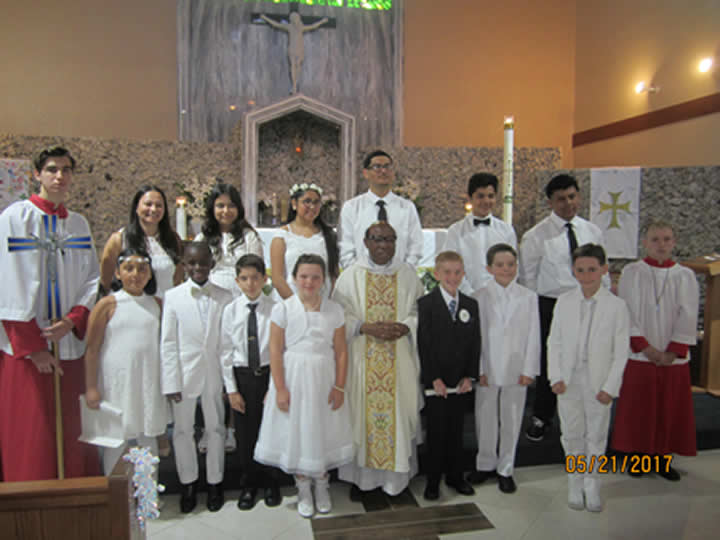 Religious Education Teachers: Gus Maldonado, Julio Mendoza, Mayra Mendoza & Michelle Pedebos
Click HERE for CCD Class Information (English)
Click HERE for CCD Class Information (Spanish)
Click HERE for CCD Registration Form (English)
Click HERE for CCD Registration Form (Spanish)
Click HERE for CCD Acknowledgement Form
Click HERE for CCD Calendar 2022-2023
Baptism: Church Office, 954-785-2450
Confirmation Coordinator: Gus Maldonado, 954-440-7230
Holy Communion: Michelle Pedebos, 954-297-5435